Addis Ababa (ENA) March 2/3023 Battle of Adwa entered the annals of Ethiopian history, marking the tremendous victory of the African people over the European army, Russia Ambassador to Ethiopia Evgeny Terekhin said.
In his congratulatory message to Ethiopians on the 127th Anniversary of Adwa Victory, Ambassador Evgeny Terekhin said evidently, the events of the 2nd of March, 1896, hold a special place in the history of not only the Ethiopian state but whole Africa.  
According to the ambassador, the victory of the Ethiopian people at the Battle of Adwa is an event of utter importance in the memory of both Ethiopia and all of Africa.
This victory is more than a military triumph. It is a demonstration of the great strength of mind, national freedom loving character, will and what a people can achieve, standing united, he pointed out.  
Evgeny further noted that the heroism and dedication of the Ethiopian people determined the outcome of the general battle.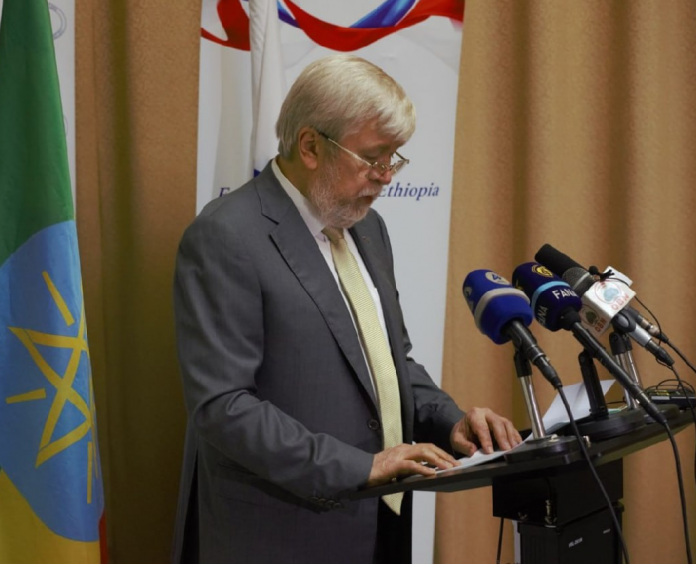 "The Battle of Adwa is an outstanding example of the bravery, courage, strength, and unity of the Ethiopian people, which cast doubt on the invincibility of European armies and served as a source of encouragement and a lodestar for all African peoples in the struggle for their independence from the yoke of colonialism," Ambassador Evgeny said.  
He stressed that the victory was a launching pad and a springboard for the emergence of pan-Africanism, it also gave a powerful impetus to the strengthening of the Ethiopian statehood and the country's independent domestic and foreign policy and fostered its positions on the international arena.  
According to the ambassador, the Battle of Adwa may justly be called one of the milestones in the history of Russian-Ethiopian relations.  
He recalled that a Russian Red Cross mission also arrived in the country helping thousands of Ethiopian war heroes wounded in the battle. In 1898, two years later, diplomatic relations were established between Russia and Ethiopia.  
The ambassador finally congratulates the Government and the brotherly people of Ethiopia on the 127th Anniversary of the Victory at Adwa.