Addis Ababa January 27/2023/ENA/ Normal life is restored and the prospect of enduring peace is brighter in the northern part of conflict-affected areas in Ethiopia, following the signing of the Pretoria peace agreement, Ethiopian National Defense Force (ENDF) International Relations and Military Cooperation Director-General Major General Teshome Gemechu said.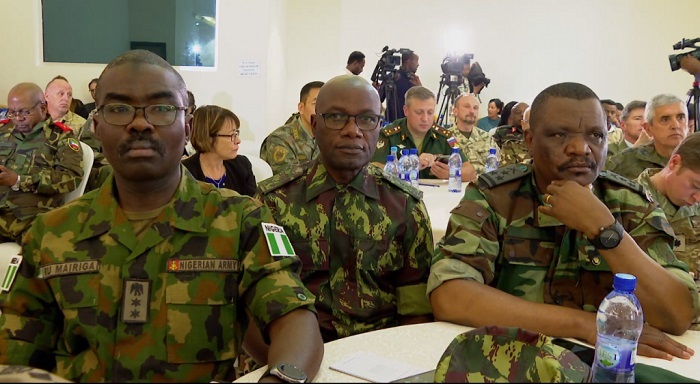 Major General Teshome briefed military attachés of different embassies residing in Addis Ababa about the implementation and progress of the peace agreement today.
According to him, the prospect of durable peace is brighter than any time and the people of Tigray are now enjoying peace.
"There is no military operation and there are no forces other than the Ethiopian National Defense Force in Tigray region. The government is aggressively engaged in restoration of facilities such as telecommunication, bank and other required public services as well as aid. (As a result), normal life is being restored."
The prospect of lasting peace is now observed, Major General Teshome stated, adding that "we strongly believe that different technical issues will be worked out very quickly."
As peace in Ethiopia has regional significance beyond Ethiopia's territory, the implementation of this peace agreement will also help improve the condition of peace in the eastern part of Africa, the director general noted.
Besides, peace and stability in Ethiopia provide basic conditions to enhance political security and economic connectivity condition of the Horn of Africa.
The director general believes that as a good model of resolution for lasting peace, the peace agreement offers valuable lesson to various conflicts around the global.
The attachés attending the briefing on their part applauded the progress of the implementation peace agreement.
Nigerian Defense attaché, Colonel Rufai Umar Mairiga said, "I want to commend the Federal Democratic Republic of Ethiopia for this. Peace is not easy. If you were there you observe the enthusiasm of the people for peace."
A Kenyan attaché also stated that "the process is good and the progress is good (but) a bit slow, which is expected. The team on the ground is doing well."