BBC News
Another ultimatum for The Gambia's long-term leader to leave office or be forced out by UN-backed troops expired at 16:00 GMT.
The presidents of Guinea and Mauritania remain locked in talks with defeated President Yahya Jammeh, and have not issued any statements.
Mr Jammeh's elected successor, Adama Barrow, was sworn in as president at a ceremony in Senegal on Thursday.
Troops acting in support of President Barrow have paused their advance.
The forces from the Economic Community of West African States (Ecowas) regional grouping are backed by the United Nations.
They crossed into The Gambia from Senegal on Thursday but have been told not to advance further until the talks have finished.
Two deadlines, at 12:00 and 16:00 GMT, set by Ecowas for Mr Jammeh to leave, have now passed.
Mr Barrow's legitimacy as president has been recognised internationally, after he won last month's elections.
Mr Jammeh remains at the state house in The Gambia's capital, where soldiers are calm, the BBC's Umaru Fofana reports.
The head of the Gambian army, Gen Ousman Badjie, told reporters that he now recognises Mr Barrow as commander-in-chief.
His forces would not fight the Ecowas troops, he told Reuters, but instead would "welcome them with flowers and make them a cup of tea".
However, Gen Badjie has little influence over an elite unit of fighters, called the Gambia National Guard, who analysts say may opt to fight even if vastly outnumbered by the Senegalese and Nigerian forces, as they are from the same ethnic group as Mr Jammeh.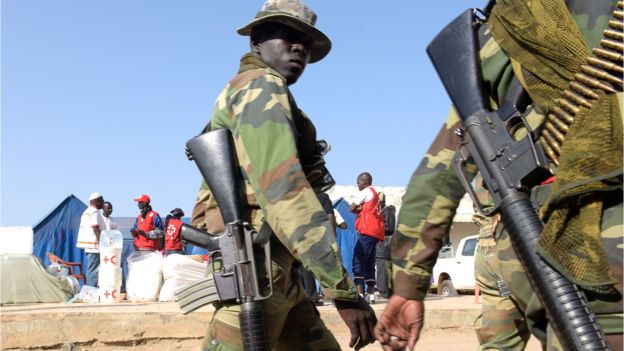 Mr Jammeh's term expired at midnight on Wednesday – but, while still president, he engineered a parliamentary vote to extend his presidency. As Mr Barrow has already been sworn in, the country could be said to have two presidents.
Guinea's President Alpha Conde and Mauritanian President Mohamed Ould Abdel Aziz arrived in Banjul on Friday morning for the talks with Mr Jammeh.
The chairman of the Ecowas commission, Marcel Alain de Souza, said that if the meeting with Mr Conde proved unsuccessful, military action would follow.
---
Break for prayers: By Umaru Fofana, BBC Africa, Banjul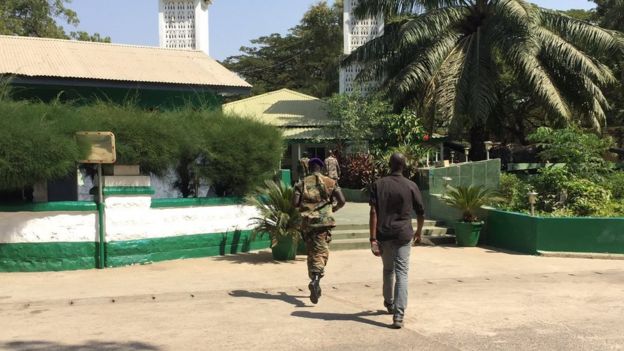 With talks still ongoing between Yahya Jammeh and the visiting presidents of Guinea and Mauritania, I have been waiting at State House, the seat of the presidency.
When it was time for Friday prayers and as there was no sign of progress I went to the Chairman Jammeh Mosque inside the grounds of State House.
The soldiers were great. They welcomed me there and looked pleased to know I was a practising Muslim.
Imam Alhaji Jallow was preaching about faith and following the right path. An interesting theme if you ask me, in view of the times.
Midway through the sermon, we were asked to leave the four front rows. We shifted.
As the sermon proceeded I was called outside the mosque. Confused, I asked why. No answers. My colleague and I were driven out of State House. Very respectfully I must say.
As we left, a member of the presidential guard whispered to me the obvious: Mr Jammeh and his guests would be coming to the mosque for prayers.
They were perhaps worried that I would get an insight into how the talks were going if I remained.
---
Ecowas said that its forces had encountered no resistance after entering The Gambia.
The troops are from Senegal and other West African countries.
Mr Barrow, who remains in Senegal, has said that he will not return to Gambia's capital, Banjul, until the military operation has ended.
The threat by the West African regional bloc Ecowas to remove Mr Jammeh by force is supported by the 15-member UN Security Council, although the council has stressed that a political solution should be the priority.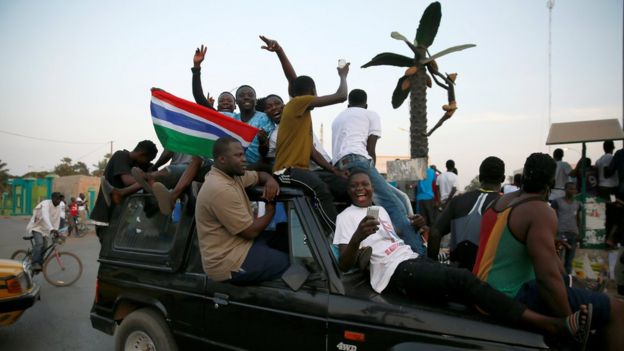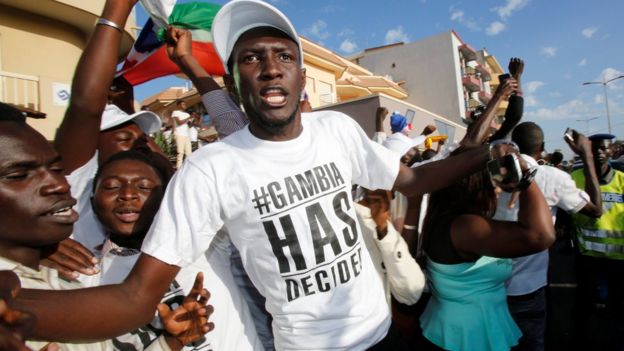 Tourists have been evacuated from The Gambia and the UK's Foreign Office has advised against all but essential travel to the West African country.
In his inaugural speech at the Gambian embassy in Senegal's capital, Dakar, President Barrow ordered all members of The Gambia's armed forces to remain in their barracks.
Any found illegally bearing arms would be considered "rebels", he said.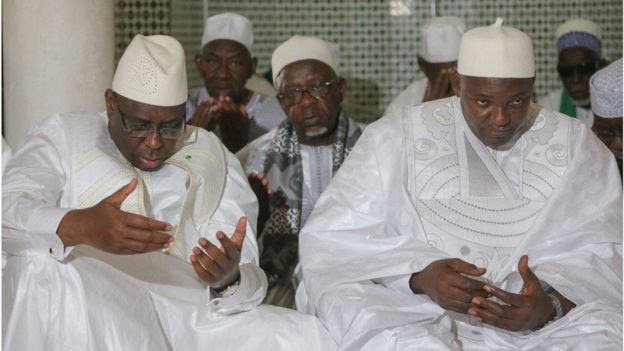 On Friday, Mr Barrow tweeted a photo of himself praying "for peace in Gambia" alongside Senegalese President Macky Sall.
Amid the crisis, the UN refugee agency reported that more than 45,000 people had fled The Gambia for Senegal so far this year.
More people could leave if the situation was not resolved, the UNHCR said.
---
Why is Mr Jammeh refusing to go?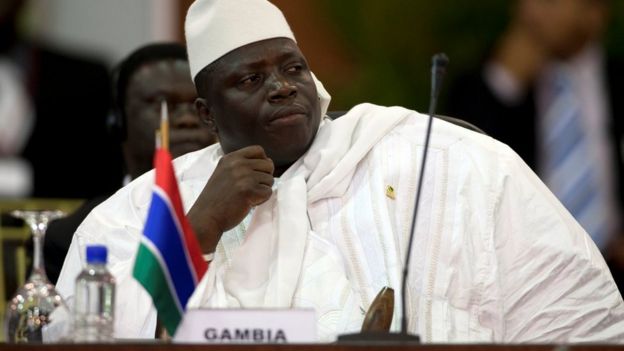 After first accepting defeat in the election he reversed his position and said he would not step down. He declared a 90-day state of emergency, blaming irregularities in the electoral process.
The electoral commission accepted that some of its early results had contained errors but said they would not have affected Mr Barrow's win.
Mr Jammeh has said he will stay in office until new elections are held.
Remaining in power would also give him protection against prosecution for alleged abuses committed during his rule.