By William Davison
wdavison10
Bloomberg
The Ethiopian government's deadly mishandling of a protest at a cultural event by the Oromo people threatens to reignite demonstrations across the country's largest region and worsen political risk in one of the U.S.'s key African allies.
The Association for Human Rights in Ethiopia estimates as many as 100 people were crushed to death or drowned on Sunday as they fled from regional police firing tear gas, rubber bullets and live rounds to disperse a crowd in Bishoftu city, 28 miles (45 kilometers) southeast of the capital, Addis Ababa.
Oromo protesters had crossed their arms — a symbol of resistance by Ethiopia's largest ethnic group that's been demonstrating for almost a year — as they chanted anti-government slogans and threatened to take over a stage where traditional leaders were due to speak. Government spokesman Getachew Reda put the death toll at 55 and said some of the protesters were responsible for the stampede.
"People are now angry and we expect a huge backlash in Oromia," said Milkessa Midega, a doctoral candidate at the Center for Federal Studies at Addis Ababa University. "This is going to inflame another round of deadly protests."
Regional Bulwark
The U.S. considers Ethiopia a bulwark in the Horn of Africa, a region troubled by failing states. With one of Africa's fastest-growing economies, Ethiopia is part of an internationally funded African force battling al-Qaeda-linked militants in neighboring Somalia and also has peacekeeping troops in South Sudan and Sudan.
Protests that began over the eviction of farmers and arrests of leaders have led to 600 Oromo being killed by security forces since November, according to the rights association. Since July 31, there have also been fatal anti-government demonstrations in Amhara, Ethiopia's second-most populous region. Combined, they present a major challenge for the ruling coalition that's controlled Africa's second-most populous nation for 25 years.
Oromo angry at the Bishoftu tragedy have already started demonstrating across the sprawling central region in towns including Ambo, according to Milkessa, who attended Sunday's event. He said youthful protesters were angered by government efforts to control which traditional leaders spoke at the annual Irreecha celebration. The danger of people getting crushed in the ditches if force was used was obvious, Milkessa said.
The leaders of the Oromo wing of the ruling coalition were replaced last month amid government pledges to combat corruption and maladministration. Government opponents say senior officials of Tigrayan ethnicity control the Oromo politicians that lead the region of about 35 million people.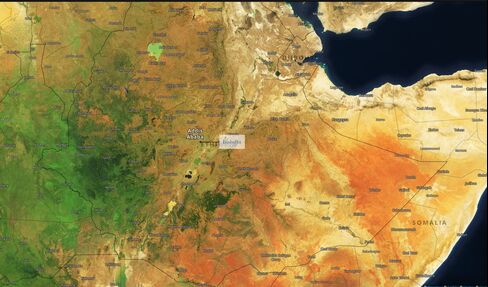 The Bishoftu incident was described as a "massacre" by influential activists such as U.S.-based Jawar Mohammed, executive director of the Oromia Media Network, who disseminates videos and reports of protests to more than 1 million Facebook followers. He says the military shot and caused the deaths of as many as 600 people and on Sunday called for five "days of rage" across the region.
Crowds stoned vehicles traveling between the towns of Modjo and Shashemene on Sunday and the road was effectively closed to traffic on Monday, said Sara Negash, a passenger in a targeted bus. At Hagere Mariam in southern Oromia, protesters burned a customs office and police station, according to Getachew.
There was a heavy police presence and most shops were shut on Tuesday in Burayu, an Oromo town on the edge of Addis Ababa, after protests that began there late Monday. Dangote Cement Plc equipment was burned and government buildings destroyed in unrest in two other locations in Oromia that led to deaths, the pro-government Fana Broadcasting Corp. said on its website, without saying how many people were killed.There will probably be a shift in resistance tactics after the tragedy as the Oromo "intensify their struggle for freedom and equality," said Awol Kassim Allo, a lecturer in law at the University of Keele in the U.K.
"I think yesterday's event marks a significant turning point in the struggle of the Oromo people," he said.
Ethiopia's last major political crisis was in 2005 after an opposition coalition claimed victory in a disputed election and police shot dead almost 200 protesters in the capital.